Jlumhs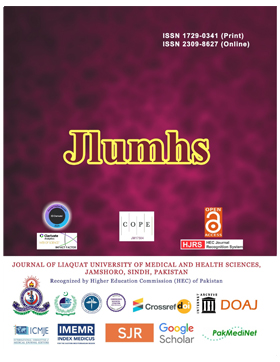 Journal of Liaquat University of Medical and Health Sciences (JLUMHS) Jamshoro, Pakistan, publishes original manuscripts, case reports and reviews on topics related to medical and health sciences.

JLUMHS is recognized by Higher Education Commission of Pakistan, Islamabad (HEC), Pakistan Medical and Dental Council (PMDC) and included in Index Medicus for WHO Eastern Mediterranean Region (IMEMR) as well as Embase.

JLUMHS is index in Scopus, Google Scholar and DOAJ. JLUMHS is partially sponsored by Higher Education Commission of Pakistan.

JLUMHS is indexed and recognized by following International / National databases:

International
Directory of Open Access Journal (DOAJ)
Clarivate Analytics (Thomson Reuters) Master list in ESCI (Emerging Sources Citation Index).
Index Medicus for WHO Eastern Mediterranean Region (IMEMR)
Digital Object Identifier (DOI) by CrossRef
ICI World Journals (Index Copernicus International)
CiteFactor indexation
ICMJE (International Committee of Medical Journal Editors)
Google Scholar
SJR (Scimago) (13th position in Pakistan)
National
Higher Education Commission Pakistan (HEC) Islamabad in Y-Category
Pakistan Medical and Dental Council (PM&DC)
Pakmedinet
Online edition of JLUMHS is available at URL: www.lumhs.edu.pk/jlumhs
Abstracts of papers published in JLUMHS are also available online at www.pakmedinet.com/jlumhs.
Good news for authors - JLUMHS has Online submission/tracking system and peer review
It is a pleasure for us to announce that from now on Authors and Reviewers can track progress of submitted article online from submission to its publication. After peer review and acceptance for publishing an amount of PKR 5000/- is to be paid towards publication charges in PM&DC and HEC recognized scholarly Journal of Liaquat University of Medical & Health Sciences (JLUMHS), Jamshoro, Web link for registration and online submission is as follows. Click here
Copyright and Licensing - CC BY

Articles in the Journal of Liaquat University of Medical & health sciences are open access articles under a Creative Commons Attribution-NonCommercial-ShareAlike 4.0 License.This license permits use, distribution and reproduction in any medium; provided the original work is properly cited and initial publication in this journal. This is in accordance with the BOAI definition of open access. In addition to that users are allowed to remix, tweak and build upon the work non-commercially as long as appropriate credit is given and the new creations are licensed under the identical terms.
ICMJE (International Committee of Medical Journal Editors)
JLUMHS is listed as a journal that follows the ICMJE's Recommendations for the Conduct, Reporting, Editing and Publication of Scholarly Work in Medical Journals
Click here